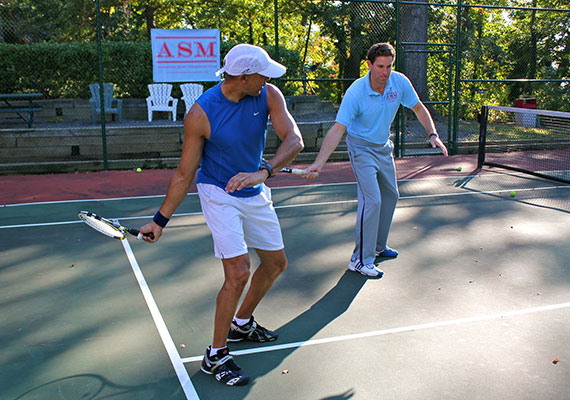 Tennis Lessons
In addition to our various large group and team tennis programs, ASM Tennis Academy offers private, semi- private, and group tennis lessons for players of all ages and skill levels. Lessons are offered per hour, half hour, or monthly increments (private lessons only). Please Contact Us to schedule group lessons.
Please choose an instructor and register below.
Note that Semi-private lessons prices listed are per person and require 2 clients.
Tennis, your way
specialized tennis lessons
In general, private and semi-private tennis lessons are best suited for players seeking to improve on select portions of their game while group tennis lessons are best suited for players seeking to improve on many aspects of their tennis game and live ball drills.
challenge yourself
Asm signature training
Are you ready to work one-on-one with our coaches to throughly improve your tennis game? Whether you are a beginner or advanced, our coaches will use the most effective tennis teaching methodologies to help you enhance your technical skills, build game strategy, and develop mental strength.
- Stroke analysis and evaluation; an objective assessment
- Weakness identification and improvement; a "fundamentals approach"
- Stroke development; technique, theory, and practice
- Competitive conditioning; physical development and exercise drills
- Advanced hitting practice
- Special development programs for the "uncoordinated athlete"
- Strategic development; the psychological side of tennis
- Early development programs for children and juniors
- Special request topics
Semi-Private Lessons require 2 people.
Group Lessons require at least 3 people.
We customize our lessons and programs for the needs of the players and this relationship is necessary for improvement and accountability for both players and our coaches. For this reason, ASM requires 24 hours notice for a player to be granted a make-up for all tennis lessons (private, semi-private, and group lessons). If notice is not given within 24 hours, the player will be billed for the lesson.
International School of Prague Indoor Tennis Courts (Click on location to map it)